Dreamhost Review: Is Dreamhost A Good Hosting?
DreamHost
offers one of the best web hosting packages around. They're super reliable, use open sourced software, and give you unlimited bandwidth.
While
DreamHost
is among the more expensive shared hosting options available, they offer a tremendous value.
With excellent speeds, uptime, features, support, and unlimited bandwidth, you'll get your money's worth. That said, their custom dashboard isn't everyone's favorite, and the enormous amount of money you have to shell out upfront is understandably off putting to many.
1. Unlimited Bandwidth and Disk Space
Lots of websites say they offer unlimited bandwidth and disk space.
But what they really mean is that they don't set a clear limit for you; they can decide at any given time if you are using too much space.
One too many spikes in traffic and you may find your account has been suspended for abusing the capacity of the shared server. Or, your hosting company may passively aggressively insist that you upgrade to a more expensive hosting plan.
Bluehost is a good example of a company that has irritated many customers for doing just that.
DreamHost
only has the one shared hosting plan, and they truly do offer unlimited bandwidth and disk space.
No suspensions for overuse.
No pricier plan to force you into.
If you plan on growing a popular site, this is huge.
And the hardware to actually support heavy traffic. When you couple that with the fact that you can always upgrade to a VPS server or a dedicated server, then the sky is the limit.
2. Single-Click Application Installation
DreamHost
runs their scripts in such a way that you can install WordPress – along with many other different applications – at the click of a mouse. These other applications include photo galleries, shopping cart software, CMS software apps and more.
The beautiful thing about scripts is that you can use someone else's script without the need to know any code whatsoever. Take the scripts – many of them are free – and install them on your website with a single click. As a webmaster, you can enjoy the fact that you can make your site look and feel however you want it to with this feature.
3. 97-Day Money Back Guarantee
This is actually longer than most of hosting providers.
The standard is a 30-day money back guarantee.
DreamHost
offers a 97-day money back guarantee – isn't that something?
The 97-day money back guarantee works like this: if anytime you cancel within the initial 97 days after signup, they will refund 100 percent of the money you paid.
Anytime you cancel after the 97 days, they'll refund you a prorated amount.This is really generous, and also seems especially important for DreamHost given that you may have to pay up front for at least a year (but more on that later).
4. 100% Uptime Guarantee
While most other providers boast about a 99% uptime guarantee,
DreamHost
offers a 100% uptime guarantee. If, for any reason, your website is down, they will credit your account with one day of free hosting for every hour that it's down.
But lucky for you (and for DreamHost's billing department), they don't go down very often.
DreamHost has averaged a stellar 99.98% uptime in the last year.
The only hosting company that does better than that is
SiteGround, at 99.99%
5. Sweet Freebies
Perhaps they can't really be called free since you do pay for the plan, but we like that DreamHost includes a bunch of extra features in their standard shared hosting plan that most other hosts charge extra for.
You'll get malware scanning, an SSL certificate, multiple domains, a free domain name, unlimited email addresses and capabilities, and a $100 in Google AdWords credit to boot.
6. Free Web Hosting for Nonprofits
This is a unique feature for a Web hosting company. If you are in the United States and you run a nonprofit business, such as a charity or a church, DreamHost will host it for free. By providing the right documentation from the IRS namely, the IRS-issued 501(c)(3) determination letter, DreamHost will work with you and provide you for with free hosting.
Downsides of DreamHost
DreamHost has some of the most comprehensive features on the market, but there are a few catches. Consider these points carefully before you pull the trigger.
1. DreamHost Plans are a Bit Pricier
If you want to pay month-to-month for hosting with DreamHost, be prepared to shell out a bit more monthly than your average plan.
That is a huge number in the shared hosting world, given that most hosting plans are priced below $5/month.
Otherwise, you can pay up front for a year at for $10/month, or three years for $8/month. Even at those reduced rates, DreamHost is still one of the most expensive options, especially if you are paying up front. With such a huge amount to be forked over all at once, you'll be glad for that 97-day guarantee.
Update for 2019: DreamHost has some of the cheapest and best priced plans in shared hosting: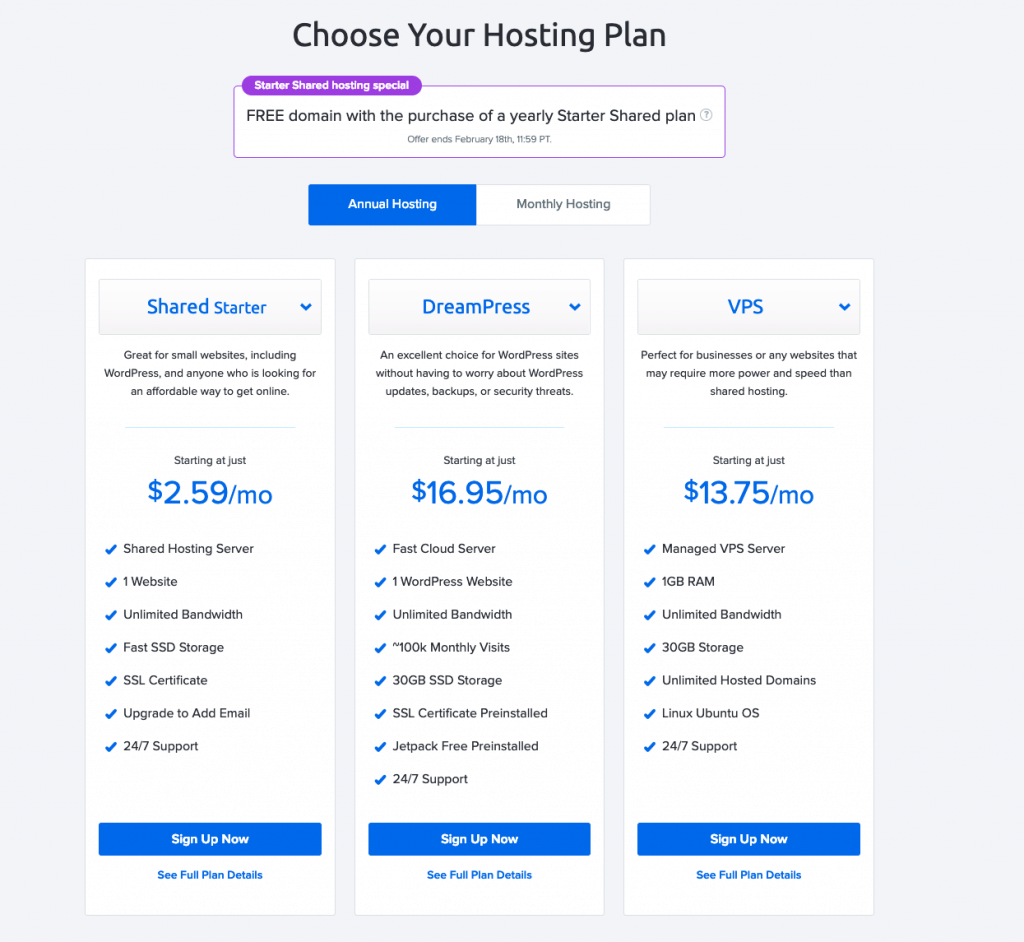 We maintain that DreamHost is a tremendous value, but it's not right for everyone.
We'd recommend them to folks who have considered upgrading to a more expensive shared hosting option as their page grows. The features offered rival lots of the premium plans that other shared hosting providers charge extra for. But if you just want a simple site at a cheap price and don't intend to use a ton of diskspace or bandwidth, you're probably better off going with a cheaper option that has clear limits.
Here's the thing. If you compare them to more "premium" hosts like WP Engine and Kinsta, you'll quickly find that DreamHost is extremely affordable.
2. DreamHost Customer Service Lacks Phone Support
Sure, their email ticket system is pretty darn good and they are quick to help out via chat support. But sometimes you really just want to talk to a real person with a real voice. If you're the type that likes to get the same agent on the phone each time, DreamHost isn't for you.
SiteGround is our far and away leader in the customer service department (plus you can call them!).
3. Only One Shared Hosting Plan
In some ways, this is a benefit. Having just the one plan takes out a lot of the analysis paralysis of choosing between varying levels of shared hosting plans, and keeps you from paying extra for features you don't need just in case. However, not everyone is really in a position to make the most out of DreamHost's unlimited bandwidth and many features. A site with only 100 visits a month will pay the same as a site with 100,000. Sure, the busy website is getting a great deal. But not so much the little guy.
4. Love cPanel? DreamHost Does Not.
DreamHost has their own control panel and does not use the typical industry standard cPanel. This isn't so much a con as it is a matter of preference. DreamHost's dashboard is significantly more modern looking than cPanel, but can also be intimidating to the uninitiated. And sometimes it can just be irritating to have to learn a new interface, especially if you already interact with dozens of different ones on a daily basis. If you're really comfortable with cPanel and reluctant to adopt something new, DreamHost may disappoint.
Bottom Line
If you know what you're doing, DreamHost can be a dream come true.
Unlimited disk space and unlimited bandwidth coupled with a dedicated server means that your website can grow from inception to a true blockbuster without the need to switch hosting companies or upgrade plans.
However, if you're new in the game, you may not be in a position to truly take advantage of all that DreamHost has to offer, making the high upfront cost squarely not-worth-it.